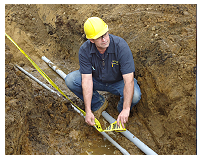 When Warren Electrical Contractors opened its doors in 1974, owner Phillip Allard had one main goal: to provide our customers with a better choice of electricians...
Our skilled electricians hold Journeyman's or Master licenses, and can handle any job regardless of its size or scope.
Our industrial, commercial, and residential services include:
Advanced Troubleshooting for All Wiring and Electrical Systems
Preventative Maintenance Programs
Fire Alarm and Telecommunications Wiring
Hardwired and Wireless Security Systems
Infrared Heat Trace Monitoring and Recording
Local and Remote Monitoring CCTV Systems
New Construction and Renovations
We believe in 100% safety for our customers and personnel through the utilization of proper safety equipment. To learn more about what we can do for all your electrical needs, please feel free to contact us today!